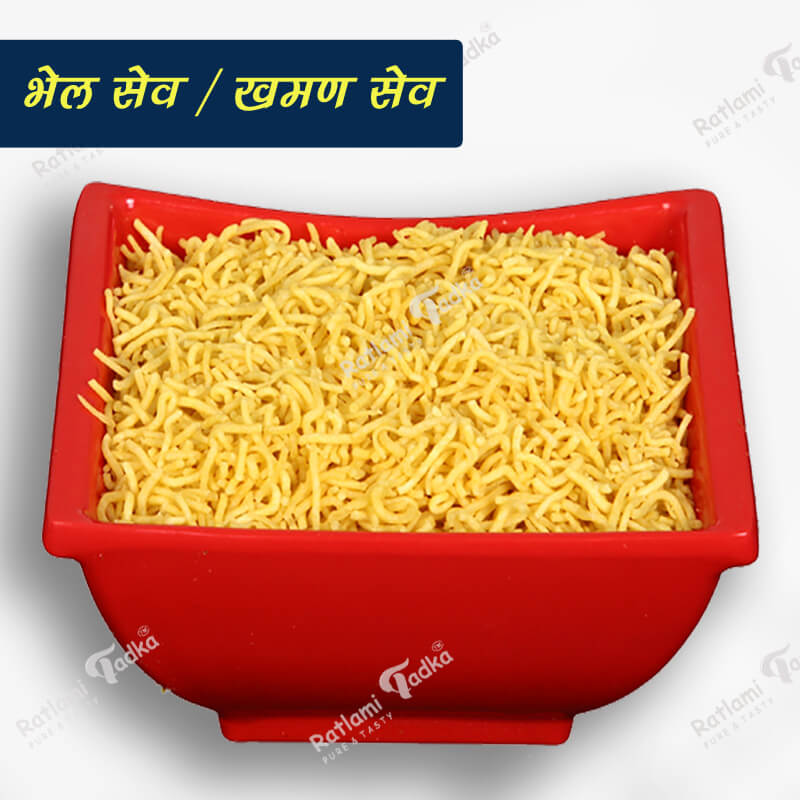 Bhel Sev / Khamand Sev / Nylon Sev
₹ 160.00
This is a Vegetarian product.
Description
Bhel Sev / Khamand Sev / Nylon Sev is a noodle type crispy snack made from gram flour. It is also known as khamand sev / nylon sev. It is particularly used in many Indian food and snack preparations as main ingredient or garnishing agent. This is best ingredient to spice up & garnish various dishes like different chaats, curries , mixtures. This sev can be sprinkle  generously on Sev Puri, Pani Puri, Bhel Puri, Ragda Pattice, or any north indian Chaat items   . 
yummy crispy snack …lovely spice up & Garnishing snacks…
      In Gujarat this sev is called Khaman Sev. Khaman Sev is a crispy and tasty deep fried thin strands made from gram flour dough. Khaman Sev is also an extremely important ingredient for sev khamani , amiri khaman and many khaman recipes. 
Nylon Sev / Bhel Sev is a  Sev which are very pushed though minute sieves making them look like threads of nylon. Nylon Sev is a perfect savoury snack to have at tea time. It is also known to be one of the best pass-time snack.
Enjoy your Occasions by spice up your recipes with these Bhel Sev / Khaman Sev / Nylon Sev , We parcel it beautifully and gift to your near and dear ones. It is best tasted when consumed within the 15-20 days . If you order this namkeen online , Ratlami Tadka serve this at your door step between 4-6 days.
Quickly order now your own packet of these Cruipy and Garnishing  snack "Bhel Sev / Khamand Sev / Nylon Sev".
Go ahead and try this product from ratlami tadka along with  Peanut Red Chilly.
* For Gift Wrap , Please inform us through ordering comment section.
Ingredient: GRAM FLOUR,SALT,EDIBLE OIL, ETC.
Storage Instructions : store in a cool, air tight and dry place
Disclaimer: Images are for reference purpose only and Ratlami Tadka reserved the rights for product packaging/size/name change without prior notice.