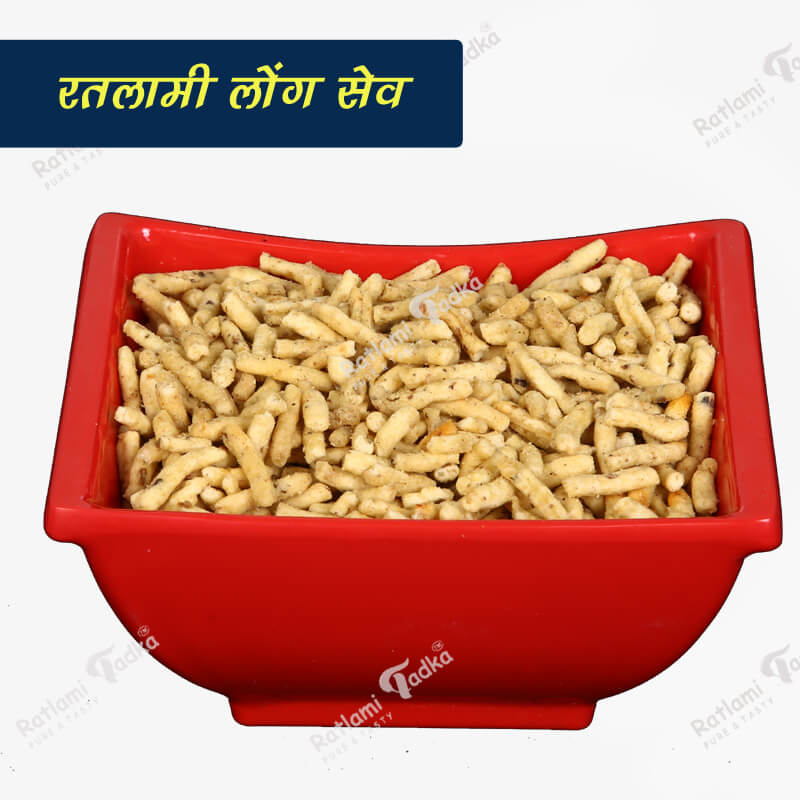 Ratlami Sev (Namkeen)
₹ 160.00
This is a Vegetarian product.
Ratlami Laung Sev ( बारिक रतलामी लोंग सेव )
Taste : Medium Spicy
Description
Ratlami sev (long Namkeen)  is the perfect, healthy and ready to eat snack item. This extruded snack of gram flour with a punch of clove also contains ajwain, pepper, red chilli, turmeric and many more spices to enhance the taste. This ratlami namkeen is very flavorful, aromatic with all the spices. This namkeen is also famous with name indore  namkeen.
The crunchy special ratlami sev has a delectable laung flavour and thick pieces of pure delicacy and spices mixed in the right proportions to provide your taste buds the tingling they crave for, perfect for snack over tea time or enjoying with your family and friends or while lunch or dinner. This snack can also be used for making the world-famous Sev Tamatar (Sev Tomato) Sabzi. Ratlami long Sev looks just perfect – delicious and addictive.
yummy crispy snack …lovely tea time snacks…
Enjoy your Occasions by sending these Ratlami namkeen , We parcel it beautifully and gift to your near and dear ones. It is best tasted when consumed within the 15-20 days. Store in an air tight container for good shelf life of sev. If you order this namkeen online , Ratlami Tadka serve this at your door step between 2-5 days. Go ahead and try this product from ratlami tadka along with  Ratlami Tadka Namkeen Mixture.
Quickly order now your own packet of these spicy and extruded snack "Ratlami Sev Namkeen".
This is a Vegetarian Product.
Contains Gram Flour , ajwain , red chilli , black pepper , long cloves ,  turmeric etc..
Shelf life is 45 days.
Store at room temperature in an air-tight container.
* For Gift Wrap , Please inform us through ordering comment section.
Disclaimer: Images are for reference purpose only and Ratlami Tadka reserved the rights for product packaging/size/name change without prior notice.