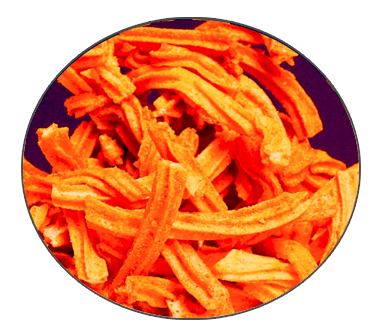 Soya Sticks
₹ 80.00
This is a Vegetarian product.
Key ingredients : SOYA FLOUR,EDIBLE OIL,SPICES,ETC.
Packets Available : 400 Grams
Free delivery all over india
Description
Ratlami tadka Soya Sticks are lime and chili flavored snacks made from soya beans! Savory in flavor, soya sticks are also crisp and crunchy in texture; ideal for snacking. Buy soya sticks by the pound, kilo, or case to keep your cupboard well-stocked with this pantry must-have! Conveniently pack portion controlled baggie's to store your car, backpack, and desk with this delicious treat!
Enjoy your this savory flavor Soya Sticks , We parcel it beautifully and gift to your near and dear ones. It is best tasted when consumed within the 40-60 days . If you order this pickle online now , Ratlami Tadka serve this at your door step between 2-5 days.
Quickly order this snack online now and get your own packet of this lime and chili flavored snacks. "Soya Sticks ".
Only logged in customers who have purchased this product may leave a review.