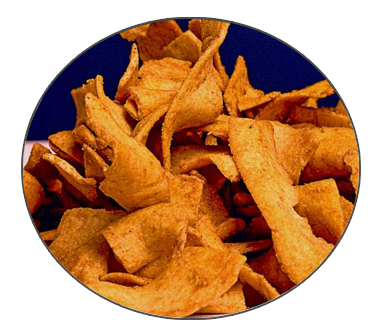 Soya Chips
₹ 80.00
This is a Vegetarian product.
Key Ingredients : SOYA FLOUR, EDIBLE OIL , SPICES ,ETC.
No Harmful Preservatives , no Harmful Color are Added , 100% Pure Spices
Free Shipping all over india.
Description
Soya chips with all natural salsa is a healthy snacks. Soyaa chips is had great taste , high in protein.
Soya Chips are richly seasoned, low-fat baked alternative to traditional high-fat chips. Each serving contains a unique blend of soy and rice offering 7 grams of soy protein and a surprisingly low approx. 3 grams of fat.
Soya beans are a high-protein legume, or bean, grown as food for both humans and livestock. The word soya is derived from the Japanese word shoyu (soy sauce/soya sauce). The soya plant has the highest-quality protein of any plant food, and its high level of protein content is considered equivalent to animal foods. Soya is considered to be a complete protein, like meats, meaning that it provides all the essential amino acids your body needs but doesn't produce on its own.
Enjoy your this Richly Seasoned Soya Chips , We parcel it beautifully and gift to your near and dear ones. It is best tasted when consumed within the 40-60 days . If you order this pickle online now , Ratlami Tadka serve this at your door step between 2-5 days.
Quickly order this snack online now and get your own packet of this Richly Seasoned snacks. "Soya Chips".
Only logged in customers who have purchased this product may leave a review.