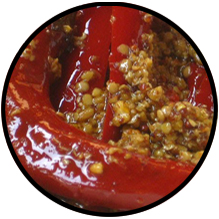 Red Chilli Pickle
₹ 180.00
This is a Vegetarian product.
Key ingredients : Red Chillies , Mustard oil , Ground spices etc.
No Harmful preservatives , No color are added , 100% Good quality spices.
Free Shipping all over india.
Description
Ratlami tadka bring you traditional stuffed Red Chilli Pickle online (Bharwa Lal Mirchi ka Achar) . This hot and Spicy pickle tastes lordly when eaten with parathas, curd rice, etc. It tastes as homemade Lal mirch pickle and has a long shelf life. This pickle is made up of high quality spices. Slitted long red chillies are stuffed with spices to make tasty pickle , a fiery combination of red chillies and spices make this a just right accompaniment.
Sounds Spicy , hot & yummy..order now & grab it…!
Enjoy your this spicy chilli pickle , We parcel it beautifully and gift to your near and dear ones. It is best tasted when consumed within the 40-60 days . If you order this pickle online now , Ratlami Tadka serve this at your door step between 2-5 days.
Go ahead and try this product from ratlami tadka along with  Green Chilli Pickle (Athana Mirchi).
Quickly order this pickle online now and get your own packet of this spicy and hot pickle  "Red Chilli pickle ( Lal Mirch ka achar)".