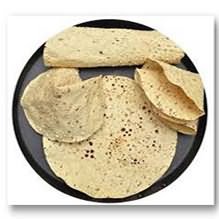 HandMade Moong Papad
₹ 170.00
This is a Vegetarian product.
Key ingredients : Moong dal , spices , black pepper etc.
Free shipping all over india.
100% pure ingredients , no harmful preservative added.
Description
Moong Papad is it's rich aroma that is best suitable with any of the Indian cuisines. Mouth-watering taste and crunchy, our Moong Dal Papad is widely appreciated and highly in demand for its unique method of preparation as well quality.
Round and thin papad's are an nice accompaniment to meals. They can be roasted , fried or grilled to crispiness.Our Moong Dal Papad is made up completely under controlled highly hygienic conditions. This makes our Moong Dal Papad free from each sort of adulteration.
Enjoy these delectable little delights…….
Conveniently pack portion controlled baggie's to store your car, backpack, and desk with this delicious treat!
Enjoy this medium spicy moong papad , We parcel it beautifully and gift to your near and dear ones. It is best tasted when consumed within the 30-50 days . If you order this moong dal papad online now , Ratlami Tadka serve this at your door step between 2-5 days.
Quickly order this online now and get your own packet of this munchy and crispy snack . "handmade moong papad".