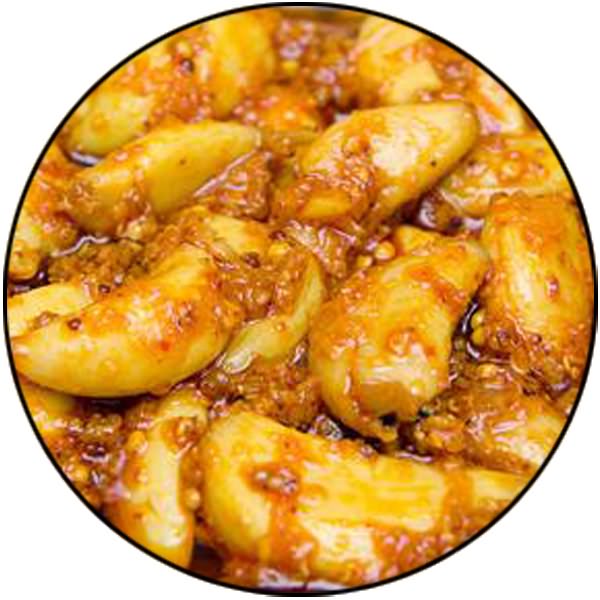 Spicy Garlic Pickle
₹ 180.00
This is a Vegetarian product.
Key ingredients : Peeled Garlic Cloves, Mustard oil ,red chilli powder , spices etc.
100% Good Quality Spices Used , No harmful preservatives added , No color are added.
Free shipping all over india .
Description
Garlic pickle has a very nice hot and sweet flavor. The sweetness is provided by jaggery. peel the garlic pods and keep aside. For garlic pickle we chosen small to medium garlic pods. The melange of flavors of marinated peeled garlic combined with jaggery, red chilli powder and other spices, to make a rich, complex, bold spicy garlic pickle. Best to be more innovation and imaginative to make it perfect to add zing to any dish.It tastes fantastic alongside your favourite curry, or with pappadums or naan. You can try as a spread on a sandwich to give an everyday meal a delectable Indian twist.
Garlic is having S-allyl cysteine (SAC) which lowers cholesterol, blood pressure and sugar levels and inhibits platelet aggregation as well. The SAC has some anti-tumor properties also. Modern science has shown that garlic is a powerful natural antibiotic and has a powerful antioxidant effect. Garlic should be seen as part of a healthy lifestyle.
Enjoy this aromatic Indian pickle , We parcel it beautifully and gift to your near and dear ones. It is best tasted when consumed within the 60-90 days . If you order this pickle online now , Ratlami Tadka serve this at your door step between 2-5 days.
Quickly order this pickle online now and get your own packet of this hot & sweet pickle  "Garlic pickle (Lahsun ka achar)".
Only logged in customers who have purchased this product may leave a review.